Relax and unwind in a modern, contemporary environment
The Lounge is Sharjah Airport's newly renovated premium airport lounge. The Lounge is a world-class, contemporary space for passengers to relax, unwind and enjoy international food and beverage before departing on their travels.
The Lounge features comfortable seating for over 170 guests, a quiet zone for relaxation, an interactive children's play area and shower facilities. Centrally located in the Terminal, it is open 24 hours a day, offers superfast Wi-Fi and all-day dining. Light bites and a wide range of beverages are served all day, with a sumptuous buffet service at breakfast, lunch and dinner.
Lounge Facilities
• Dedicated business/working corner
• Wi-Fi
• Interactive kids play area with family rest area
• Disabled access
• Refreshments
• Shower facilities with toiletries and towels provided (subject to payment)
• Separate smoking room
• International newspapers and magazines
• Televisions
Food and Beverage
A selection of international canapes, desserts, snacks and hot and cold beverages are available 24 hours a day
• Breakfast buffet is available from 02:00am to 11:30am
• Lunch buffet is available from 12:00pm to 17:00pm
• Dinner buffet is available from 17:30pm to 01:30am
How to Book
• Passengers can apply for a voucher to The Lounge through their tourism agency or airline, by emailing Hala Services or the Transfer Desk, or at the check-in counter. Charges may apply for access to the lounge for up to three hours; extra time will incur additional costs.
• Walk-in guests can purchase a voucher at The Lounge reception.
Lounge Policies
• Sleeping is not permitted in the lounge
• Children aged below 5 years old enter free
• Children aged between the ages of 5 and 12 are charged at 50% of the applicable adult lounge charge
Terms and Conditions
• The Lounge reserves the right to refuse access or remove people from its premises
• The Lounge is not responsible for missed flights as a result of guests arriving late to the lounge or where visa information is insufficient, incomplete or incorrect
• All fees will be subject to 5% VAT in compliance with the laws and regulations of the United Arab Emirates
• Payment is non-refundable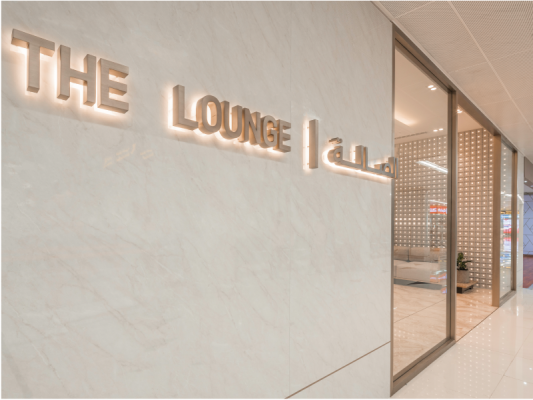 Contact Details