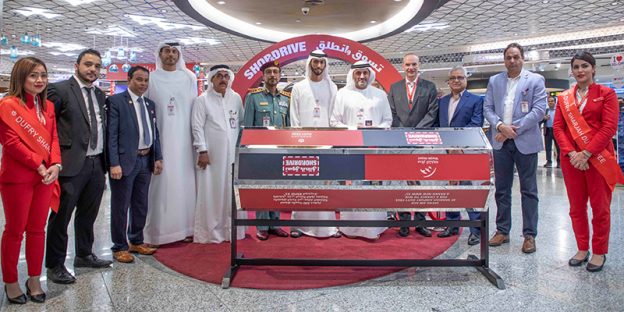 Sharjah Airport Duty Free, operated by global travel retailer Dufry, announced the third winner of its "Shop and Drive" campaign, which was launched at Sharjah Airport earlier this year. Raffle prizes include four luxury cars to encourage passengers at the Airport to visit the Duty Free shops and benefit from diverse options.
The raffle was drawn on Sunday 8th December, and the winner of a BMW X1 was announced in the presence of HE Ali Salim Al Midfa, Chairman of Sharjah Airport Authority, HE Sheikh Faisal bin Saoud Al Qassimi, Director of Sharjah Airport Authority, Felix Brunner, Dufry's General Manager Middle East, India and the Indian subcontinent, and a number of officials from the Airport and Dufry Sharjah. The winner – Aboobacker Charupadickal from India – was awarded one of the four luxury cars allocated to this campaign. Customers spending AED200 at Sharjah Airport Duty Free stores have the opportunity to enter the raffle to win a car once every four months.
His Excellency Ali Salim Al Midfa said, "The Shop and Drive campaign aims to enhance the experience of passengers who travel through Sharjah Airport and to encourage them to discover a unique shopping experience at the Duty Free stores, which offer a variety of international brands. The recent expansion of Duty Free, a valuable addition to the Airport's services, adds an extra enjoyment to passengers' journeys."
Felix Brunner commented, "The Sharjah Airport Duty Free raffles are ongoing and generate a lot of customer interest and excitement. Congratulations to the winner of this fantastic prize and thank you to all the customers who shop at our stores."
He explained that the "Shop and Drive" campaign is part of a series of Dufry promotions that aim to encourage passengers at Sharjah Airport to take advantage of the various options available to them in Duty Free, including beauty products, perfumes, technology, watches, gifts and candy from the most prestigious brands at competitive prices.