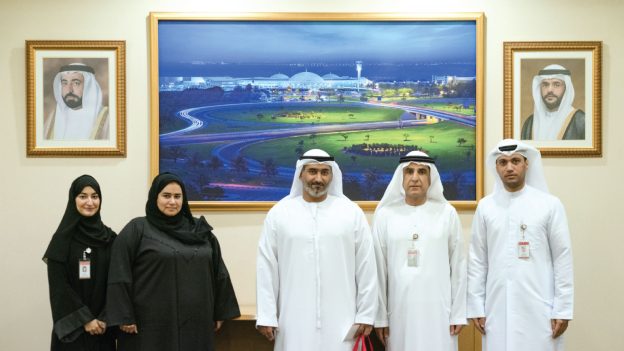 Sharjah Airport Authority recently honoured the winners of the "Because We Care" programme, which has been very well-received by customers and passengers. Over the past few years, the programme has been an important source of creative ideas and suggestions, and their implementation has contributed to the improvement of services at the Airport, enhancing its competitiveness.
In the presence of Ahmed Al Hmoudi, Director of the Customer Service Department at Sharjah Airport , Eng. Abdelkhaliq Abdalla, Director of Airport Operations, and May Al Hajri, Manager of Strategic Planning & Performance Department, the prizes – plane tickets provided by Air Arabia, the Main sponsor of the programme – were awarded to the winners –Ahmed Ishaq Abdullah from the UAE, Aman Maarrawi from Syria and Venkata Krishna Kumar from India – were reworded with tickets sponsored by Air Arabia.
Ahmed Al Hmoudi said, "Customer satisfaction is a priority for the Authority. The "Because We Care" programme continues to gather opinions and suggestions about the Airport's facilities and services from customers and passengers. This programme helps us learning more about the needs of the Airport's passengers and users."
AlHmoudi pointed out that the programme is the ideal tool for measuring passenger satisfaction, which has contributed to the development of services at the Airport.
Sharjah Airport Authority launched the programme in 2009 to monitor the Airport's customers and users' feedback on the services and facilities provided and to evaluate their travel experience. The Authority recognises that these suggestions contribute to the development of the Airport's services, and that the programme provides information about the customers' service-related preferences.
Airport users can express their opinions and evaluate the services provided at the Airport on Sharjah Airport's website (www.sharjahairport.ae) by completing questionnaires distributed in the Departure and Arrival halls, through mobile devices that Airport employees use to interview customers or via Sharjah Airport's Mobile application.