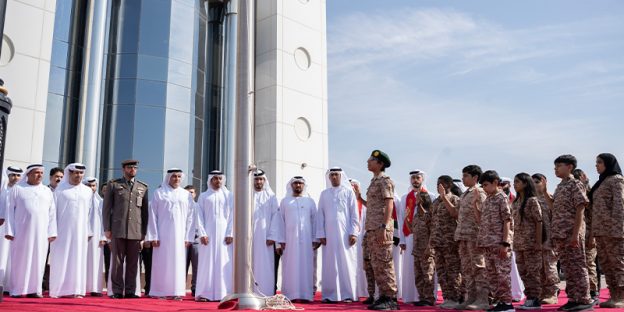 November 30, 2022
The Department of Civil Aviation and Sharjah Airport Authority observed the Commemoration Day, with a moment of silence to pay tribute to the heroic deeds and unwavering sacrifices made by the Emirati martyrs.
The Authority hoisted the UAE flag outside its building while playing the national anthem, in the presence of H.E Sheikh Khalid bin Isam Al Qassimi, Chairman of Department of Civil Aviation-Sharjah, H.E. Ali Salim Al Midfa, Chairman of Sharjah Airport Authority, and H.E. Sheikh Faisal bin Saoud Al Qassimi, Director of Sharjah Airport Authority, as well as employees of both the organisations and representatives from various government and private sector entities working at the airport.
H.E. Sheikh Khalid bin Isam Al Qasimi, Chairman of the Department of Civil Aviation in Sharjah, said: "The Martyr's Day is symbol of pride, glory and commemorate the nation's martyrs and its honorable people for their loyalty and sacrifices in the line of duty. It is also an occasion that the people rally around their leadership to reiterate their loyalty, vowing to continue the journey of righteousness and upholding the values of truth and justice and preserving the sovereignty".
H.E added: "On this memorable day, we renew our commitment to our leadership and people to continue supporting the families of our martyrs, whose sacrifices will remain a role model for all those seeking to ensure the security and dignity of the homeland".
H.E. Ali Salim Al Midfa, Chairman of Sharjah Airport Authority, said: "On this historic moment, we honour our brave and heroic martyrs, whose sacrifices and commitment continue to be a symbol of hope in the history of the UAE and a driving force behind our journey towards an era of growth, prosperity, and development. We salute our Emirati heroes, who sacrificed their lives in the defence of our country and its sovereignty, demonstrating our unity under the flag of union. In line with the principles of our wise leadership and his vision for the future, we reaffirm our commitment to the path of growth and development that our martyrs forged through their sacrifices, as well as the vision of the UAE's unified people."
H.E. Sheikh Faisal bin Saoud Al Qassimi, Director of Sharjah Airport Authority, said: "On this special moment, we express our great pride in the heroic deeds of our brave martyrs, and the examples they have set for efforts in civil and humanitarian causes. We salute their righteous souls and take inspiration from their historical endeavours that embrace the patriotic virtues of devotion and love for our country, and we commit to incorporating these values and following them in every step we take. We will keep their sacrifices alive in the hearts of future generations and instil in them the virtues of loving and contributing our all to our country."
– ends –