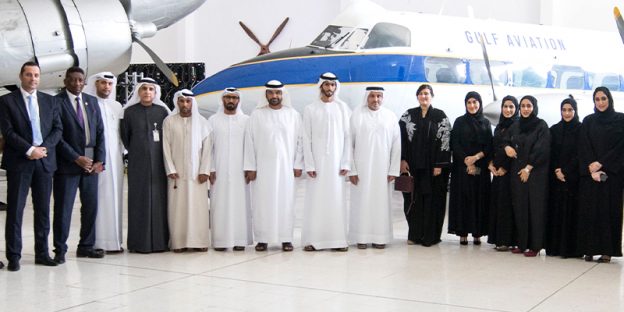 In a meeting headed by HE Ali Salim Al Midfa, Chairman of Sharjah Airport Authority (SAA), in the presence of HE Sheikh Faisal bin Saoud Al Qassimi, Director of Sharjah Airport Authority (SAA), SAA announced the most important achievements and successes of 2019 and revealed plans and programmes that will be implemented in 2020. The meeting was held yesterday at Sharjah Air Al Mahatta Museum, and they were received by Her Excellency Manal Ataya, Director General of the Sharjah Museums Authority.
The meeting was held at the museum due to its historical significance to aviation in the region; the first airplane landed in October 1932 at the first Emirati airport . HE Ali Salim Al Midfa reviewed Sharjah Airport's most important achievements of 2019, which helped to enhance the Airport's regional and global standing. These included a year-on-year increase of 13% in the number of passengers, which totalled 13.6 million in 2019, the highest number in the history of the Airport, as compared to 12 million passengers in 2018. Sharjah Airport is one of the region's leading airports in terms of passenger numbers.
His Excellency highlighted the statistics for aircraft traffic (both scheduled and unscheduled flights), which increased 6.45% to 86,506 take-offs and landings as compared to take-offs and landings in 2018 as a result of the Airport attracting new airlines and adding new flights. This is a response to efforts to promote Sharjah Airport's importance and appeal and to the increasing number of options provided to passengers, including connections to more than 105 destinations around the world.
SAA's Chairman also discussed the performance of the air freight sector, which grew to more than 148.7 thousand tons in 2019, including 11.67 tons last December. The volume of air freight from last January to December reached 15.29 thousand tons, an increase of 12.12% compared to the same period in 2019.
His Excellency explained that SAA prioritises the happiness and comfort of passengers, customers and employees based on the belief that this is reflected in the Airport's competitiveness. He pointed out that SAA has created and developed a number of services to enhance the passenger experience.
During the meeting, different departments presented the previous year's most prominent projects and accomplishments, which helped to strengthen the Airport's leading position at the local, regional and global levels. They also presented the latest smart services and applications developed to meet the needs of the Airport's customers and passengers. In 2019, an updated version of the Sharjah Airport application was launched, a pioneering step in the digital transformation of airports in the Middle East. With important information designed to meet passenger and customer needs, the application provides an enjoyable and unique travel experience.
During the meeting, officials discussed the smart gates' role in making passenger traffic smoother and more flexible by reducing transaction time to a maximum of 20 seconds. This is in line with the Airport's strategy to make the travel experience more accessible by providing services at the highest international standard. More than 3 million passengers used the smart gates in 2019.
HE Ali Salim Al Midfa said, "During 2019, there were a number of achievements in all areas – including services that aimed to enhance customer happiness and provide an exceptional passenger experience – based on the vision and directions of His Highness Sheikh Dr Sultan bin Mohammed Al Qasimi, Member of the Supreme Council and Ruler of Sharjah, and the follow-up of HH Sheikh Sultan bin Mohammed bin Sultan Al Qasimi, Crown Prince and Deputy Ruler of Sharjah and Chairman of the Executive Council. We are happy with the statistics from 2019. We look forward to further accomplishments including the completion of expansion plans for the Airport, which will increase capacity to 20 million passengers per annum by 2025."
His Excellency added, "Thanks to the speed and efficiency of procedures and services, Sharjah Airport gained the confidence of a broad segment of passengers and attracted new airlines while maintaining its appeal for airlines and passengers. This helped to enhance Sharjah's positioning as a preferred tourist destination and an important hub for trade and business."
He extended his thanks to all Sharjah Airport users including passengers, airlines, travel agents, private tour operators and private companies that support SAA's operations for their trust in Sharjah Airport and for using its services and facilities.
HE Sheikh Faisal bin Saoud Al Qassimi emphasised that the growth in passenger numbers was achieved as a result of Sharjah's distinguished position as an important economic, commercial and tourist hub in the region, the Airport's distinctive services for air carriers, and the growing number of destinations.
He added, "More services and features will be provided to the Airport's customers to enhance passenger loyalty and satisfaction as we continue to improve and provide the best passenger and customer experience."
After the meeting, the team from the Airport toured Al Mahatta Museum with Manal Ataya. They were briefed on the museum's most important sections and assets, especially those dating back to the beginning and development of air traffic in the Emirate of Sharjah. The team expressed their happiness and thanks for the warm reception and the atmosphere that was created for Sharjah Airport Authority's important annual meeting.
During 2019, Sharjah Airport implemented multiple community initiatives and projects in addition to welcoming new airlines, winning awards and participating in national and international initiatives and events; this established the Airport at local, regional and global levels. The most notable achievements include:
Sharjah Airport ranks fourth internationally in terms of accuracy and punctuality
In 2019, Sharjah Airport made a unique achievement, ranking first among MENA airports and fourth internationally in terms of accuracy and punctuality according to OIG, the international provider of airport and airline data. In a domestic and international achievement, Sharjah Airport's accuracy in terms of flight departure times was 91.1% in the first half (H1) of 2019.
Last year, SAA celebrated the 10th anniversary of the "Because We Care" customer feedback programme. A great success, the programme has encouraged customers and passengers to submit thousands of suggestions that have helped to improve the quality of passenger and customer services, enhancing customer and passenger satisfaction.
Projects
• SAA continued its comprehensive AED1.5 billion airport expansion plan, which includes a project that will enlarge the terminal and increase capacity to approximately 20 million passengers per annum by 2025.
• SAA has implemented multiple projects to enhance customer and passenger satisfaction: Adding new car parks and shaded areas; designing and building a security room at Gate 10; replacing the lights and ceiling in different locations; designing, supplying and installing cargo lighting; renovating the Immigration Department's breakrooms; and undertaking air conditioning-related electrical work.
• The Airport is currently completing projects as part of a comprehensive expansion plan that will increase capacity. Construction work on the Engineering Building, which is scheduled to open next year, started in August 2019. Work on the sewage plant started in September 2019. The construction of additional buildings and related work was completed in November 2019.
• During 2019, the Airport established the technical, legal and financial requirements for the tender for the expansion of the Airport, which will have the capacity to accommodate 20 million passengers per annum. The project will go to tender in April 2020, with work starting in October 2020. The technical and financial evaluation of the Central Utilities Unit project is also underway, and work is expected to start in April 2020.
Airlines
• Sharjah Airport expanded its global network of destinations; Air India Express added Surat International Airport to its network to capitalise on the growing demand for travel to this destination via Sharjah Airport.
• Sharjah Airport received Turkish Airlines' inaugural flight from Istanbul. Seven weekly flights will operate from Istanbul Airport to Sharjah Airport.
• Sharjah Airport received Nigerian airline Air Peace's inaugural flight from the international airport in Abuja. Air Peace seeks to take advantage of the growing demand for travel to and from the Emirate of Sharjah.
• A delegation headed by HE Ali Salim Al Midfa, SAA Chairman, and including HE Sheikh Faisal bin Saoud Al Qassimi, SAA Director and a number of officials from SAA departments, divisions and sections visited Singapore Changi Airport in order to exchange experiences, develop relationships, and learn about the best international practices and services.
• Air Arabia strengthened its network by adding 4 new destinations – Kuala Lumpur, Tunisia, Vienna and Bishkek – which contributed to the increase in the number of passengers travelling through Sharjah Airport.
Exhibitions
Last year, SAA participated in many local and international aviation industry exhibitions to introduce its services, learn about best practices, exchange experiences and stay abreast of the sector's latest developments and technology. The most important events included:
• SAA participated in Air Cargo Africa 2019 in Ekurhuleni, South Africa on February 19th to 21st, showcasing Sharjah Airport's latest improvements, services and facilities.
• For the first time, Sharjah Airport participated in Matka Nordic Travel Fair in Helsinki, Finland on January 18th to 20th, 2019, showcasing its expansion plans and the latest developments and service upgrades.
• As part of SAA's strategy to support Emiratisation and improve Emiratis' skills in the aviation sector, SAA participated in the 21st National Career Exhibition at the Expo Centre Sharjah on February 6th to 8th.
• On March 6th to 10th, SAA participated in ITB Berlin 2019, which was attended by a large number of representatives from the tourism, travel, aviation and hospitality sectors around the world.
• Following SAA's successful participation in ITB Berlin, SAA participated in Moscow International Tourism & Travel Exhibition (MITT) 2019, which was held at the Expocentre Fairgrounds in Moscow on March 12th-14th.
• At the Arabian Travel Market (ATM) in Dubai International Convention and Exhibition Centre on April 28th to May 1st, Sharjah Airport reviewed the latest developments, projects and services provided to passengers, customers and partners.
Initiatives, awards and agreements
In 2019, SAA launched several initiatives that served a wide range of community members, enhancing its presence at social, charitable and national events. The most important initiatives included:
• SAA won the Sharjah Green Award at the Sharjah Economic Excellence Award 2019 during an official ceremony organised by Sharjah Chamber of Commerce and Industry (SCCI).
• Sharjah Airport won a Modama award – Ajman's Sustainable Tourism Award –which aims to promote sustainable development in line with UAE Vision 2021 and Ajman's vision "to build a happy society that contributes to building a green economy".
• Sharjah Airport obtained OHSAS 18001 Health and Safety Management System accreditation as a result of upgrading the health and safety system and modifying brochures and documents as per the new standards introduced by the International Organization for Standardization in 2019.
• SAA and Sharjah Documentation and Archive Authority signed a memorandum of understanding, adopting a system to manage SAA's private documents in order to organise and preserve SAA's archives and documents in accordance with the best international standards and specifications.
• A delegation headed by HE Ali Salim Al Midfa, SAA Chairman, and including HE Sheikh Faisal bin Saoud Al Qassimi, SAA Director and a number of officials from SAA departments, divisions and sections visited Singapore Changi Airport in order to exchange experiences, develop relationships, and learn about the best international practices and services.
• On July 4th, 2019, SAA's Training Department organised a field tour for employees and members of the Emirates Association of the Visually Impaired in cooperation with Air Arabia to introduce the group to aircrafts' safety and security procedures.
• SAA organised an annual ceremony at Al Jawaher Reception and Convention Centre to honour outstanding employees and entities that contributed to SAA's many achievements and successes.
• SAA organised a special event for Hajj season in cooperation with the General Authority of Islamic Affairs and Endowments and the Ministry of Health in the interest of assisting pilgrims. SAA allocated smart gates and an area for passport control procedures for the pilgrims' convenience.
• Sharjah Airport Duty Free launched a "Shop and Win" campaign that includes raffles for 4 Audi and BMW cars in order to encourage passengers to take advantage of Duty Free's diverse options and competitive prices.
• Under the theme "Make an Emirati Child's Wish Come True", SAA celebrated Emirati Children's Day, which falls on March 15th each year. In order to encourage them, six children were given the opportunity to perform tasks at the Airport, to observe procedures and to communicate with customers and passengers.
• During SAA's three-day "Back to School" campaign, SAA welcomed families and children with activities and events including the distribution of gifts and balloons and face painting, which made the children very happy.
• Other community initiatives included Iftar for people who were fasting, National Day and Commemoration Day celebrations, and initiatives that enhanced communication between SAA and passengers, customers and various social groups.
• Over the past 12 months, SAA has honoured around 15 winners of the
"Because We Care" programme. SAA launched the programme nine years ago and there is one winner per month.
• SAA signed a memorandum of understanding with Al Qasimia University to enhance and develop cooperation in terms of planning, designing and implementing media campaigns for awareness and development to serve the community and address various issues.
International initiatives
• To raise the level of environmental awareness, reduce energy consumption and reduce global carbon emissions, Sharjah Airport participated in the global Earth Hour campaign, an annual event organised by The World Wide Fund for Nature (WWF).
• Under the theme "Your Happiness Is Our Happiness", SAA celebrated the International Day of Happiness, which falls on March 20th each year, to support the UAE's efforts to promote happiness and joy among all employees and customers of government departments and institutions in the UAE.