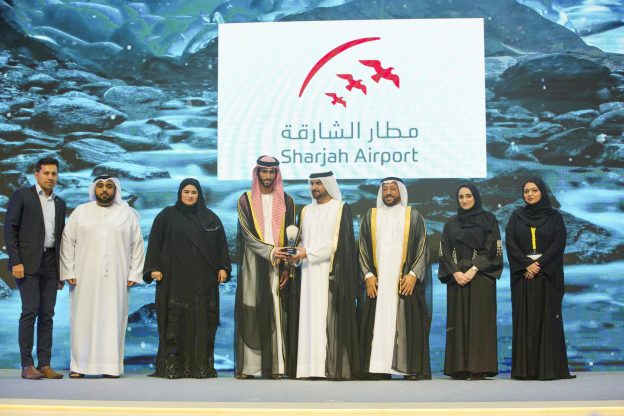 Sharjah Airport Authority (SAA) received the Sharjah Green Award at the Sharjah Economic Excellence Award ceremony in the presence of His Highness Sheikh Abdullah bin Salem Al Qasimi, Deputy Ruler of Sharjah. The ceremony, which was organised by Sharjah Chamber of Commerce and Industry (SCCI), was held at Expo Centre Sharjah recently.
This achievement was made possible by SAA's efforts to preserve the environment, which include implementing a number of green initiatives and programs in line with the Award's criteria. SAA's efforts involve recycling, reducing emissions and waste, choosing eco-friendly suppliers, using eco-friendly materials, using energy and water resources efficiently, a focus on training and safety, and other achievements related to the environment.
HE Ali Salim Al Midfa, Chairman of Sharjah Airport Authority, said, "Economic excellence is one of SAA's fundamental principles. The Sharjah Green Award is an incentive that will motivate us to continue to improve our performance; we will find innovative new ways to provide the best services that adhere to the highest standards for quality and environmental safety."
His Excellency added, "SAA recognises the importance of adopting a sustainable mode of operating through the implementation of eco-friendly operating strategies. The Authority will adhere to the highest international standards for the preservation of the environment with the latest programs implemented worldwide. We will proceed with environmental initiatives that meet standards and ensure the preservation of the environment and the conservation of diversity, in line with the vision of the wise leadership."
Sharjah Economic Excellence Award is an SCCI initiative that aims to enhance Sharjah's investment climate by boosting its competitiveness and enabling it to benefit from values such as quality, leadership and innovation. The Award aims to achieve sustainable economic growth, support emerging investments and honour outstanding businesses in all sectors. The Award's criteria are based on the European Foundation for Quality Management's Excellence Model, which employs comprehensive strategies to improve corporate performance in accordance with the highest international quality standards.