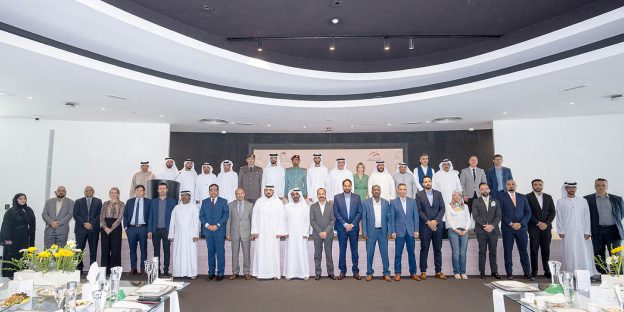 March 2, 2023
Sharjah Airport Authority held its meeting under the theme of 'Moving Forward Together' to recognize the valuable contributions of its media and strategic partners in delivering exceptional travel experiences and services to passengers.
The meeting was attended by H.E. Ali Salim Al Midfa, Chairman of Sharjah Airport Authority; H.E. Sheikh Faisal bin Saoud Al Qassimi, Director of Sharjah Airport Authority, strategic partners, and the media professionals.
H.E. Ali Salim Al Midfa gave the opening speech for the ceremony, during which he addressed the attendees and commended them for their relentless efforts, commitment, and contributions to advancing the Authority's efforts in achieving growth and success. He further lauded the efforts of media professionals who helped spread the word about the amenities and services offered by Sharjah Airport, as well as communicate its positive messages with the society.
H.E. Sheikh Faisal bin Saoud Al Qassimi also emphasised the Authority's commitment to offering immense support to its partners, creating an appropriate environment, and overseeing the implementation of their business at Sharjah Airport, in accordance with the highest international standards. The meeting further featured a video presentation of the Authority's notable accomplishments in 2022 which comes as part of the developmental journey it began since its establishment.
The meeting concluded with Sharjah Airport Authority recognising its strategic partners and representatives of the media organisations as well as the government and private entities operating at the airport, who significantly contributed to achieving the Authority's mission of providing unique travel experiences to its customers.
H.E. Ali Salim Al Midfa said: "We are proud of our robust relations with our strategic partners. We would like to express our gratitude and appreciation to our partners for the support we received during the previous year. Their efforts and commitment have contributed to achieving numerous accomplishments in 2022, especially restoring back our operations, passenger volume, air freight traffic, and ground handling procedures into the pre-pandemic levels. This meeting echoes our commitment to excellence and promoting collaboration in order to offer the best services possible to our customers."
He added: "We value our partnerships with the media organisations as they have significantly helped in increasing awareness about the services offered by Sharjah Airport. They have also played a key role in documenting our major accomplishments in 2022, in terms of the passenger and freight traffic, as well as our social responsibility."
H.E. Sheikh Faisal bin Saoud Al Qassimi said: "The Authority serves as an ideal partner for many entities and organisations owing to the stimulating work environment it offers, which is founded upon excellence and innovation. At Sharjah Airport Authority, we aim to strengthen our leadership and uphold the highest standards of quality and accuracy."
He added: "As we celebrate our accomplishments of 2022, we are embarking on newer beginnings with our strategic partners, renewing commitments and principles of our fruitful cooperation which is aimed at achieving further success, excellence, and development. Additionally, we also aim to strengthen ties with our existing partners while also growing our cooperation and developing a robust relation with new ones."
-Ends-