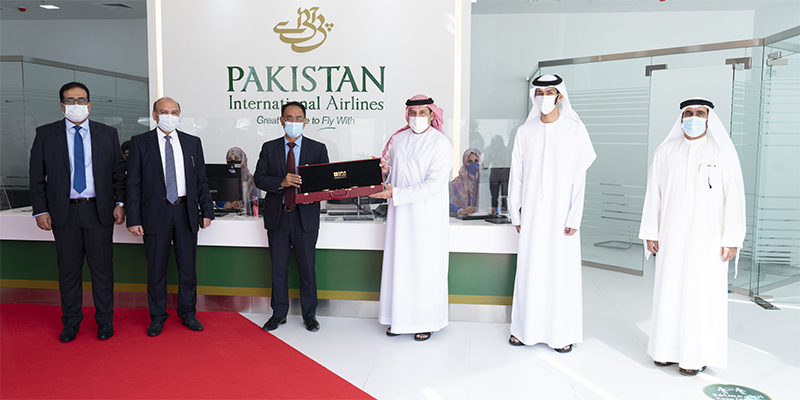 February 16, 2021
Sharjah Airport Travel Agency (SATA), one of the largest travel agencies in the UAE, has announced its signing of General sales Agency (GSA ) agreement with Pakistan International Airlines (PIA). As per the agreement, SATA will provide all travel ticket sales services through PIA and promote the airline through its branches in Sharjah, the Northern Emirates, and on its website.
The agreement came as PIA opened its new office, in the presence of His Excellency Ali Salim Al Midfa, Chairman of Sharjah Airport Authority, His Excellency Sheikh Faisal bin Saoud Al Qassimi, Director Sharjah Airport Authority, Mr. Shahid Ali Moghul- Regional Director PIA, and Mr. Arshad Munir – General Manager SATA in addition to a number of representatives from SATA and PIA. The airline currently operates 17 weekly flights connecting Sharjah with Peshawar, Lahore, Islamabad, Multan, Sialkot, Karachi and Turbat.
The agreement comes as an extension of the strategic plan of the SATA, which aims to strengthen its partnerships with regional and international airlines. In addition, this agreement is in line with SATA's plan to provide its high standard of services to all its customers in the UAE.
It is noteworthy that SATA was established in 1985, and today it has become a fully accredited agency by the International Air Transport Association (IATA). The agency is one of the fastest growing travel agencies in the United Arab Emirates with its branches located in Sharjah, Ras Al Khaimah and Ajman.