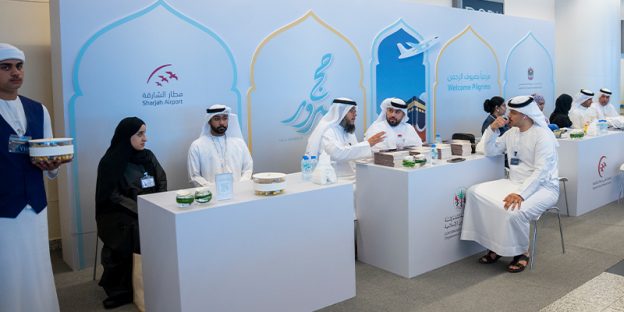 June 26, 2023
In an atmosphere of welcome and celebration, pilgrims departed from Sharjah Airport to the Kingdom of Saudi Arabia to perform Hajj rituals, and airport staff offered gifts and traditional Arabian hospitality to the passengers.
Sharjah Airport completed preparing for the departure of pilgrims, adopting a set of protocols to satisfy the requirements of their journey. Further information was provided to passengers on necessary procedures to provide a distinctive and convenient travel experience through Sharjah Airport.
In addition, Sharjah Airport set aside a lounge area with complete hospitality amenities for Hajj pilgrims. Additionally, it assigned a dedicated staff to assist in completing travel arrangements and obtaining required information.
Sharjah Airport Authority collaborated with the Ministry of Health and Prevention to provide the necessary medical examinations and information to ensure the safety of the Hajj pilgrims. A health handbook was also distributed to them, containing advice and directions to follow before reaching the Holy Land in Saudi Arabia, while being there, and after returning. In addition, a religious guide was available to guide the travelers on how to do the Hajj rituals, in coordination with the Department of Islamic Affairs in Sharjah.
Furthermore, the airport provided extra carriages to transport luggage and ensured that it can be handled efficiently, and a number of counters and smart gates were specifically designated for pilgrims to complete the formalities.
In response, pilgrims expressed their appreciation for the staff's efforts and commitment to offer exceptional travel experience at Sharjah Airport. They further lauded the high quality of services they received from the time they arrived at the report till their departure.
Sharjah Airport has been dedicated to achieving high levels of customer satisfaction through the constant efforts of Sharjah Airport Authority to provide a distinctive travel experience and industry-leading services, particularly during peak seasons.
-ends-