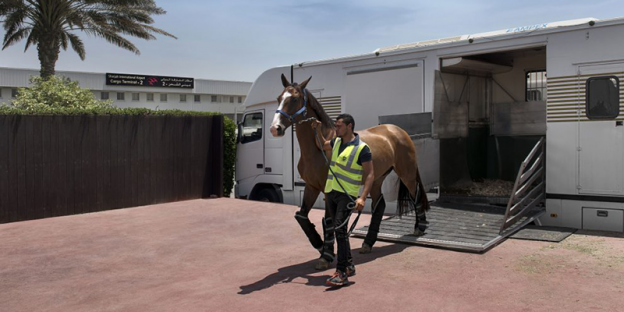 October 2, 2023
In line with the beginning of the local and international horse racing and equestrian festival season
Sharjah Airport's Cargo Centre completed its preparations for handling horse shipments, in line with the efforts of Sharjah Airport Authority to boost efficiency of air cargo operations, particularly while handling cargo that requires special attention. These preparations are made to efficiently meet the specific requirements for handling such cargo and ensure seamless facilities for accompanying horsemen to complete procedures to transport horses within the country or abroad. The move coincides with the beginning of the local and international horse racing and equestrian festival season.
The Cargo Centre at Sharjah Airport offers top-notch facilities and innovative logistic solutions to facilitate the transportation of purebred horses through the airport. The amenities include a dedicated stable on-site that guarantees easy access for the horses and their companions. In addition, the stable will be equipped with customised floorings, like Astroturf, that allows easy movement for horses. Sharjah Aviation Services (SAS), the ground handling services provider at Sharjah Airport, offers these amenities through its specialised team. The exceptional services of SAS have been recognised with the IATA Safety Audit for Ground Operations (ISAGO) certification, which reflects its dedication to ensuring the highest safety and security standards while handling all cargos.
Customers can visit the Cargo Centre's website at: https://www.sharjahairport.ae/en/business/cargo-centre/ to check the status of their shipments through the online schedule or sign up to the airport's flight tracking service to receive SMS updates on the status of any cargo flight.
-ends-