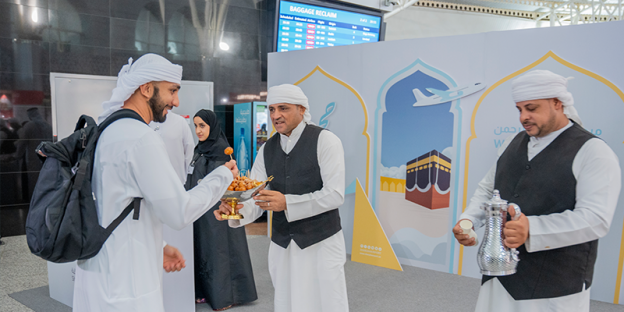 July 3, 2023
Sharjah Airport welcomed back this year's first group of pilgrims from Saudi Arabia after performing Hajj in the holy land. The airport staff welcomed the pilgrims upon their arrival in Sharjah by assisting them with their arrival procedures, greeting them with flowers, and extending high standards of hospitality in a setting of warmth and comfort.
Sharjah Airport Authority has committed all of its resources to facilitating seamless travel for pilgrims, forming an integrated working team to assist them in completing their travel arrangements and minimising their waiting periods at the airport.
In response, passengers expressed their gratitude for the warm gesture and acknowledgement they received, conveying their satisfaction with the high quality of amenities and services provided, along with the prompt completion of their travel procedures. The gesture reaffirms Sharjah Airport's commitment to delivering quality services and assistance to its passengers with its advanced range of offerings.