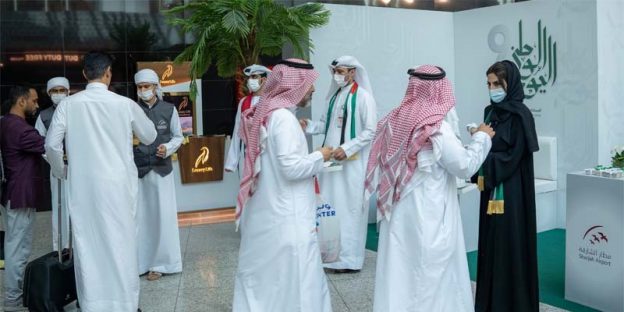 September 22, 2022
Several senior officials and representatives from Sharjah Airport Authority celebrated the Kingdom of Saudi Arabia's 92nd National Day. The occasion was commemorated in recognition of the cordial ties and shared historical connections between the two countries.
During the three days of festivities, visitors from Saudi Arabia were given roses and KSA flags to share in their celebrations of this national occasion. In a symbolic act that reflected the strong ties and relationships between the people of the two countries, passengers and Airport Authority members came together to share the joy and pride of the occasion.
Passengers from Saudi Arabia expressed their gratitude for the efforts of the staff and employees of Sharjah Airport Authority on this initiative, and further praised the solid relations between the two countries, the quality of services, and the hospitality of the airport's staff and cadres.