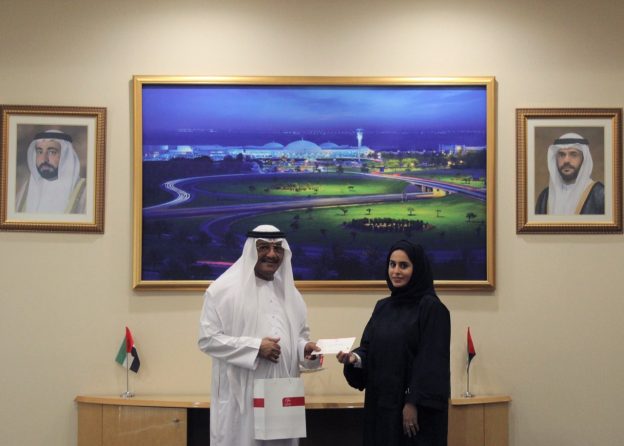 Sharjah Airport Authority (SAA) has recently awarded the winners of their customer opinion programme 'Because We Care'. Since its launch in 2009, this programme has been received with great enthusiasm and remarkable response by customers and passengers. The programme allows them to express their opinions on services and facilities provided to them at the airport and to give suggestions based on their experience. The programme is part of Sharjah Airport's endeavor to optimise customer experience and ensure excellence in services provided.
The awarding ceremony, held at Sharjah Airport Authority, was headed by Alya Obaid Al Shamsi, Director of Marketing and Customer Relations who gave Air Arabia tickets to the winners. The winners are Nasser Alhashimi from UAE and Magdy  Elagamy from Egypt, and  Adil Ishrat from India.
Alya Obaid Al Shamsi, Director of Marketing and Customer Relations in Sharjah Airport Authority, said: "Sharjah Airport has successfully developed the services and facilities that it provides to customers and passengers based on the valuable suggestions and opinions it has received over the past few years.  Passengers opinions are the best way to evaluate performance and to enhance customer satisfaction with the services provided throughout the airport."
Mrs. Al Shamsi added that the aim of the program is to use feedback from travellers and customers to improve the level of services, Customer satisfaction is our top priority, and this program helps us learn more about the requirements of our passengers and airport users."
Sharjah Airport Authority selects the winners with best suggestions submitted via SIA website (www.sharjahairport.ae), through using the mobile device through which the airport employees conduct direct interviews with customers, via the smartphone application SHARJAH AIRPORT.