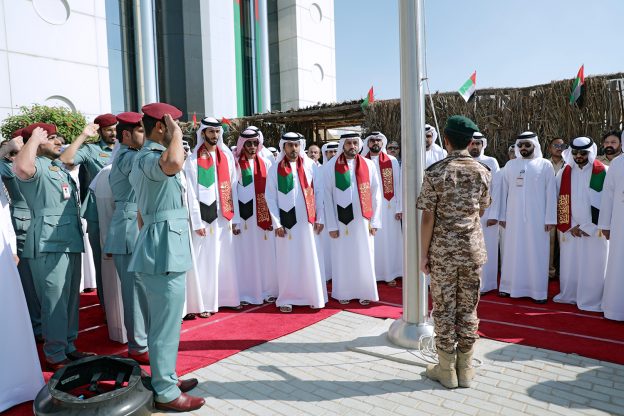 The Department of Civil Aviation (DCA) and Sharjah Airport Authority (SAA) organised an event for Commemoration Day to honour the sacrifices of the nation's martyrs.  Representatives from public and private sector organisations operating at Sharjah Airport participated in the event. The staff observed a minute of silence and said a prayer for the UAE's martyrs, then the flag of the United Arab Emirates was raised in front of the Authority's headquarters while the UAE national anthem played.
The event was attended by HE Sheikh Khalid bin Issam Al Qasimi, Chairman of DCA; HE Ali Salim Al Midfa, Chairman of SAA; HE Sheikh Faisal bin Saoud Al Qassimi, Director of SAA; and HE Sheikh Sultan bin Abdullah Al Thani, Director of DCA.
Sheikh Khalid bin Issam Al Qasimi said, "Commemoration Day is a day to honour the brave martyrs, their heroism and their sacrifices for the country and for justice. This national occasion is special to the UAE and its wise leadership and loyal people because it expresses our pride in the sacrifices of the righteous."
He added, "The values of loyalty, sacrifice and belonging, which are inherent to the UAE, are our glorious inheritance from our ancestors. It shows the world the extent of the cohesion and unity between the nation's people and leadership."
HE Ali Salim Al Midfa said, "On the occasion of Commemoration Day, we remember the late Sheikh Zayed bin Sultan Al Nahyan; from him, we learned our true national principles and the value of patriotism and the defence of national interests. These principles and values are upheld by His Highness Sheikh Khalifa bin Zayed Al Nahyan, President of the UAE; His Highness Sheikh Mohammed bin Rashid Al Maktoum, Vice President and Prime Minister of the UAE and Ruler of Dubai; His Highness Sheikh Dr. Sultan bin Mohammed Al Qasimi, Supreme Council Member and Ruler of Sharjah; and the Rulers of the Emirates."
On Commemoration Day, the UAE's leaders and people express their pride and appreciation for the sacrifices of righteous martyrs, highlighting loyalty, belonging, sacrifice and redemption as values derived from Islam, which glorifies martyrs and their heroism in defence of their countries.