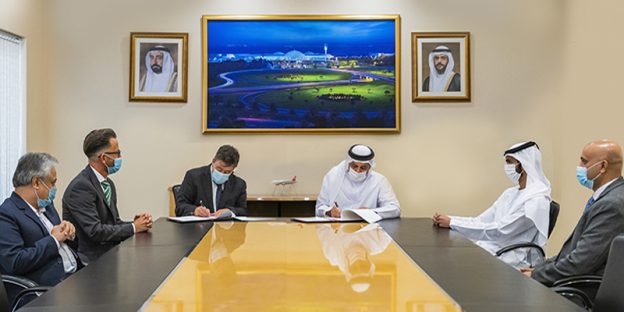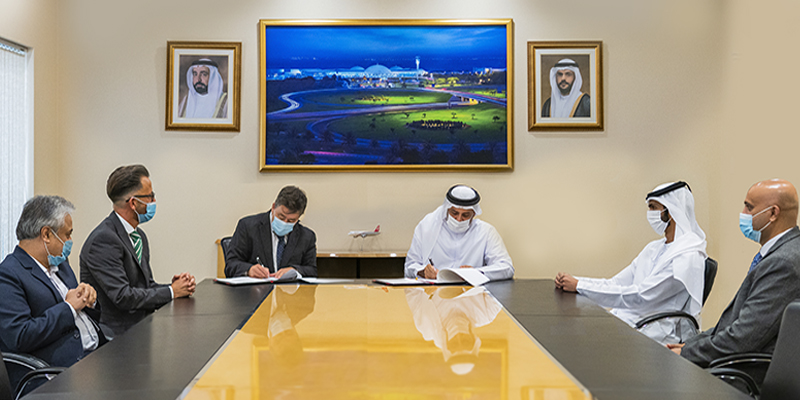 August 9, 2020
Sharjah Airport Authority has renewed their partnership agreement with Alpha Flight Services, one of the leading companies specialized in providing hospitality and aircraft catering services. The new agreement which will last for 10 years until 2030, will entail the company continuing to provide catering services for all regular and irregular flights departing from Sharjah Airport, further supporting the Airport's preparation for a new phase of growth and expansion, while attracting more airlines and travelers.
The renewed agreement was signed by His Excellency Ali Salim Al Midfa, Chairman of Sharjah Airport Authority, and Robin Padgett, Divisional Senior Vice-President of International Catering in Dnata, in the presence of His Excellency Sheikh Faisal bin Saoud Al Qassimi, Director of Sharjah Airport Authority, and Mr Mark Whelan, General Manager of Alpha Flight Services.
Level of hospitality following the highest international quality standards
His Excellency Ali Salim Al Midfa said: "Our continued partnership with Alpha Flight Services comes within the framework of the Airport's keenness to continue to develop its services and offer a level of hospitality following the highest international quality standards. The service enriches the experience of those travelling through the airport, by providing the highest standards of service based on the concept values of quality, health and safety in production, distribution and prompt delivery."
His Excellency added: "This agreement also enhances the airport development plan, which aims to enter into strategic partnerships with leading and reputable companies such as Alpha Flight Services, one of the companies specialized in supplying aircraft at many airports around the world.
For his part, Robin Padgett said: "We're incredibly pleased to extend our relationship with the team at Sharjah Airport and to further strengthen what is a collaborative and ambitious relationship. Thank you to his Excellency Ali Salim Al Midfa Chairman of Sharjah Airport Authority and His Excellency Sheikh Faisal bin Saud Al Qasimi, Director of Sharjah Airport Authority for unwavering support throughout this process".
"The opportunity to further invest in Sharjah Airport and our surrounding facilities is both exciting and, importantly, allows us to deliver on our shared goal of future enhancing Sharjah Airport's position on the global map.
"We look forward to delivering a number of exciting projects we have underway over the next 12 months."
Successful joint cooperation
The renewal of the agreement between Sharjah Airport Authority and Alpha Flight Services came following successful joint cooperation since 2007, during which Alpha proved to be a significant player in the airport, delivering high levels of hospitality to benefit the local and international reputation of Sharjah Airport.
Comprehensive development and expansion operations
The production facility of Alpha Flight Services can accommodate up to 25k meals per day equivalent to 9 million meals annually, catering for the needs of 60k flights from Sharjah Airport to all over the world. In addition to meeting the needs of the airport terminals, the service covers all areas and keeps pace with the comprehensive development and expansion operations of the airport.
Alpha Flight Services under the Dnata umbrella, is one of the world's leading air services provider for ground handling, cargo, travel and catering services, currently operating in more than 80 countries. Alpha is HACCP-certified and accredited, and it follows strict HACCP controls in association with the international In-flight Food Service Association (IFSA), WFSG, Dnata global standards, and Sharjah Municipality and food control authorities. It works in total compliance with World Food Safety (WFS) guidelines in the aviation industry.