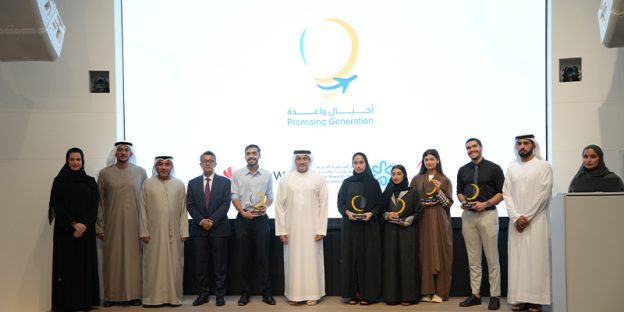 February 21, 2023
Sharjah Airport Authority, in partnership with Sharjah Research, Technology, and Innovation Park (SRTI Park) and multinational corporation Huawei, concluded the Promising Generations initiative and celebrated the graduation of the first batch of university students who assisted in devising creative solutions to challenges faced by the airport, leveraging their knowledge and creative concepts. The event was held at SRTI Park headquarters coinciding with the UAE's Innovation Month, 'UAE Innovates 2023.'
H.E. Ali Salim Al Midfa, Chairman of Sharjah Airport Authority, Hussain Al Mahmoudi, CEO of the Sharjah Innovation Park, and Faisal Ameer Malik, CTO, Enterprise Solution Sales Department at Huawei Middle East, were present at the ceremony. With the support of H.H. Sheikh Dr. Sultan bin Mohammed Al Qasimi, Member of the Supreme Council and Ruler of Sharjah, the event emphasised the significance of this collaboration, which is in line with the ambitions and visions of the wise leadership that aims at enhancing the culture of innovation and motivating people and entities to bring their unique ideas to fruition.
Three student groups that took part in the initiative presented their projects in an encouraging and creative environment. The students worked closely with Sharjah Airport staff members and prominent experts and specialists to develop these solutions with an intention of using them to address operational challenges and further develop novel methods to streamline airport operations. The projects centred on significant issues that were directly related to the day-to-day operations of the airport, such as addressing challenges in traffic and passenger offboarding in the departures terminal, issue of the building's surface area, and inventing smart luggage identifier using Radio Frequency Identification (RFID) technology.
The students addressed queries from the audience after exhibiting their projects and discussed on their experience inside Sharjah Airport, where they explored various problems with the airport staff. Having previously toured the passengers' building, the students carefully examined the airport's operational procedures and observed its vital processes. Students were later granted free access to the Huawei training platform that specialises in digital technology, giving them the opportunity to train in collaboration with Huawei to devise the best strategies to address such challenges.
HE Ali Salim Al Midfa, Chairman of the Sharjah Airport Authority, said: "We are proud to have witnessed the final presentation of the cutting-edge projects and concepts put forth by university students in conjunction with the UAE Innovation Month. We hope to promote these initiatives in partnership with our partners Sharjah Research, Technology, and Innovation Park and Huawei. We are confident that this effort will pave the way for future innovation and creativity that supports our strategic goals of fostering creativity and incorporating its tools across our daily operations."
HE added: "We made our efforts to provide the students with a smart and digitally equipped environment that complies with the highest standards at the Sharjah Research, Technology, and Innovation Park, further encouraging them to create innovative solutions. In order to help students, comprehend the challenges faced by the aviation industry, we aim at involving them in the creation of innovative digital solutions under the direct guidance and supervision of specialists and experts. To build a sustainable and knowledge-based economy, this will play a crucial role in fostering a talented generation that can advance and elevate this significant sector in Sharjah and the UAE."
H.E. Mr. Hussain Al Mahmoudi, CEO of the Sharjah Research, Technology, and Innovation Park hailed the success of the program and commended the fruitful cooperation between SRTIP and Sharjah Airport Authority, in developing training programs aligned to the UAE's vision of smart living, in which machines and devices enable multi-directional communication to facilitate services and develop performance.
He stressed the importance of this project and the results it seeks to achieve in the operations at Sharjah Airport, by involving all stakeholders, whether employees or direct supervisors from official bodies, to find solutions through innovative studies using modern smart methods. He said this achievement reflects fruitful cooperation between the private and government sectors, which is supported by SRTIP through a package of initiatives focused on transferring and localizing technology using research and technology. We are actively supporting scientific research and student researchers, to create a scientific and technology base to spark new innovations, as part of our goal to foster the progress of the Emirate of Sharjah, and help it achieve the role of a global center for research and innovation.
The initiative, which was launched in December 2021, aimed at engaging college students in devising cutting-edge and futuristic solutions to enhance Sharjah Airport operations. Participants from the Higher Colleges of Technology and the American University of Sharjah also participated in the initiative. This year, the initiative's second phase will begin with a fresh batch of university students, with a goal of strengthening the role of youth in society, further enhancing their skills, and connecting them directly to the job market.
– Ends –