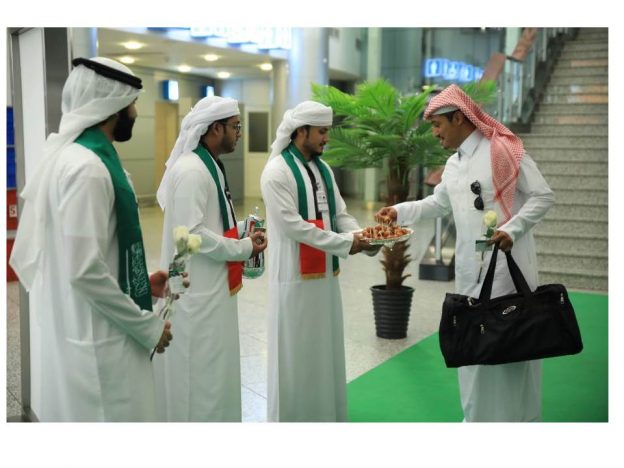 HE Ali Salim Al Midfa, Chairman of Sharjah Airport Authority, celebrated with Saudi travellers at Sharjah Airport the 88th National Day of the Kingdom of Saudi Arabia, which falls on the 23rd of September every year. In line with the deep brotherly relations between the Emirati and Saudi peoples, His Excellency, with a number of senior staff of the Authority, welcomed Saudi traveller with greetings, roses and Arabic hospitality upon their arrival at the airport.
The Sharjah Airport Saudi National Day celebrations lasted for three days. The Saudi visitors were welcomed by Sharjah Airport to spend their holidays in the UAE. They were received with the distribution of roses and Saudi flags in a scene that reflects the warm meanings of brotherhood, love and cohesion between the UAE and Saudi peoples- reinforcing the spirit of brotherhood and historical ties that unite the two brotherly countries.
The Saudi visitors expressed their happiness towards the warm hospitality and noble feelings which reflected the brotherly ties. The Saudi travellers extended their thanks to the Chairman of the Airport Authority and Sharjah Airport staff for this initiative, which left a great impression on them.