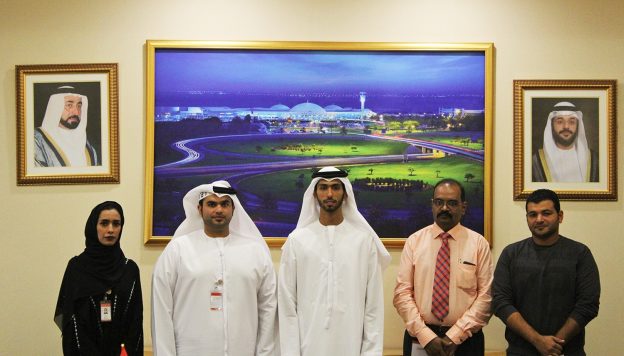 Sharjah International Airport Authority has recently awarded  the winners of the customer opinions programme, "Because We Care". Since the programme's launch in 2009, it has received positively by customers and passengers. The programme allows them to express their opinions on the services and facilities in the airport and to provide suggestions on their airport experience. The programme is a part of SIA's endeavours to optimise the experience of customers and to ensure excellence in customer service quality.
The honouring ceremony was attended by HE Sheikh Faisal bin Saoud Al Qassimi, Director of Sharjah Airport Authority. He distributed the prizes to the winners, which included airline tickets provided by Air Arabia. Among the winners were Abdulrahman Al Nabary from Egypt and Sanghith Kumar from India.
HE Sheikh Faisal bin Saoud Al Qassimi gave high praise to the programme because of the response from passengers and airport customers as well as the submission of many helpful suggestions for Sharjah International Airport Authority to enhance its overall performance and improve services. He pointed out that the programme is a link between the authority and its customers, who can express their views, suggestions and observations on the services that SIA consistently seeks to improve.
On her part, Alia Obaid Al Shamsi, Director of Marketing and Customer Relations in Sharjah International Airport Authority, asserted that the objective of the programme is to involve passengers and customers in developing the services further by taking advantage of their opinions and suggestions. She added, "Customer satisfaction is always our highest priority. This programme helps us learn more about the requirements of our passengers and SIA users."
Sharjah International Airport Authority selects the winners of the best suggestions submitted via SIA website (www.sharjahairport.ae), through the SHARJAH AIRPORT application by filling out questionnaires distributed in departure and arrival halls or using the tablets provided by SIA staff.