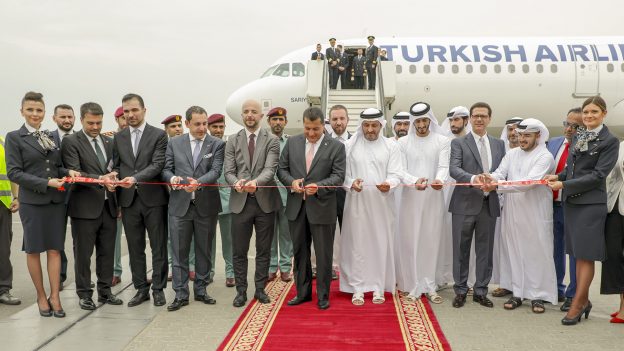 Sharjah Airport received Turkish Airlines' inaugural flight from Istanbul. Starting in April, the airline will operate a daily flight to Sharjah Airport from Istanbul New Airport.
The aircraft was welcomed with a traditional water salute, and a reception was held for the airline's officials in the presence of HE Ali Salim Al Midfa, Chairman of Sharjah Airport Authority, HE Sheikh Sultan Bin Abdulla Al Thani, Director Department of Civil Aviation Sharjah and Mr. Ahmet Olmustur, Chief Marketing Officer of Turkish Airlines. The event was attended by the senior officials from various strategic partners of Sharjah Airport and Turkish Airlines officials.
The new Turkish Airlines flight is a continuation of Sharjah Airport's successes of recent years in attracting the international carriers' confidence to benefit the efficiency of the Airport's procedures and its strategic location. In 2018 the number of passengers at Sharjah Airport rose to more than 12 million passengers and the number of scheduled and unscheduled flights increased to more than 81 thousand flights.
HE Ali Salim Al Midfa said, "Sharjah Airport continues to provide the best services and facilities to all companies operating at the airport. The airport's global reputation has won the confidence of international airlines including Turkish Airlines, which will operate daily flights between Istanbul and Sharjah to take advantage of the high demand for travel on this route."
His Excellency added, "Turkish Airlines' daily flights between Istanbul and Sharjah will contribute to the growth of tourism and trade, strengthening Sharjah's status as a hub for tourism, culture and business and attracting an increasing number of tourists to the emirate."
Ahmet Olmustur said, "We are delighted to add the emirate of Sharjah, with its prominent economic and cultural status, to our network, which now includes four destinations in the UAE."
He added, "Turkish Airlines plans to expand its network in the region to provide travellers with more choices."
The daily flight will leave Istanbul at 00:20, arriving at Sharjah Airport at 05:50 and departing at 06:50 to return to Istanbul Airport at 10:35.
Turkish Airlines is considered one of the leading airlines in the world and Istanbul Airport will be a new important destination for Sharjah Airport. The airline was established in 1933 with just five aircraft. Today, Star Alliance member Turkish Airlines has a fleet of 337 passenger and cargo aircraft flying to 306 destinations worldwide, including 257 international destinations in 124 countries.