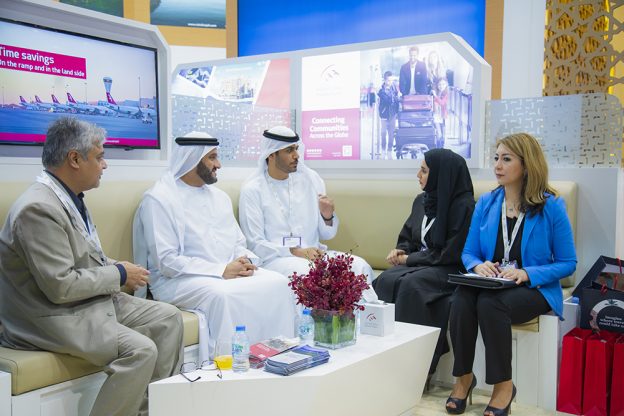 Sharjah Airport announced statistics from the first quarter of 2019 during its successful participation at Arabian Travel Market 2019. The Airport reviewed the latest developments in projects that will increase capacity and enable the Airport to accommodate approximately 20 million passengers by 2025, and highlighted the quality of services provided to passengers, partners and customers. As a result of attracting new airlines and the expansion of operations by existing airlines, Sharjah Airport recorded a growth of 9.56% in passenger movement with more than 3.156 million passengers during the first quarter of 2019 as compared to 2.880 million passengers in the first quarter of 2018.
January was the best month in terms of passenger numbers with 1.122 million passengers, while the highest growth rate – 10.59% – was recorded in March, when there were 1.079 million passengers. In February, there were 954 thousand passengers.
There were more than 20.05 thousand scheduled and unscheduled flights during the first quarter, an increase of 3.3% as compared to 19.41 thousand flights during the first quarter of 2018. There were 6,988 departures and landings in January, 6,075 in February and 6,978 in March, which recorded the highest growth in the first quarter at 4.98% in comparison to March 2018.
In terms of air cargo, Sharjah Airport registered more than 34.87 thousand tons in the first three months of 2019, an increase of 9% compared to the same period last year, with 12.13 thousand tons in March alone. Air freight movement in February 2019 increased by a benchmark 13.6% compared to February 2018.
During the first quarter of 2019, Sharjah Airport successfully strengthened its existing partnerships and entered into new partnerships with shipping companies; this reflected positively on the volume of air freight between January and the end of March 2019, increasing from 2.906 tons in the first quarter of 2018 to 4.372 tons at the end of the first quarter of this year for a benchmark increase of 50.45%.
HE Ali Salim Al Midfa, Chairman of Sharjah Airport Authority, said "During the first quarter of 2019, Sharjah Airport's positive results in terms of passenger numbers, aircraft movement and freight volume reflected the Airport's outstanding position and the continued efforts to improve our services, enhance travellers' experiences, develop our facilities and provide passengers and customers with the best procedures based on the vision of His Highness Sheikh Dr Sultan bin Mohammed Al Qasimi, Member of the Supreme Council and Ruler of Sharjah, and the follow-up of His Highness Sheikh Sultan bin Mohammed bin Sultan Al Qasimi, Crown Prince and Deputy Ruler of Sharjah and Chairman of the Executive Council."
His Excellency added, "The Emirate of Sharjah has succeeded in strengthening its position in terms of regional and international tourism and trade. By continuously upgrading the quality of services provided to passengers and customers, the Airport plays a pivotal role in enhancing the image of this pioneering emirate. The growth achieved by Sharjah Airport, which is in line with the growth in tourism and travel in the Emirate of Sharjah and the UAE, will help the emirate achieve its vision of welcoming 10 million tourists by 2021."
During the first quarter of this year, Sharjah Airport was keen to support the local community with various initiatives and by sponsoring different events and activities; a strong belief in the importance of social responsibility has strengthened the Airport's local, regional and global status.