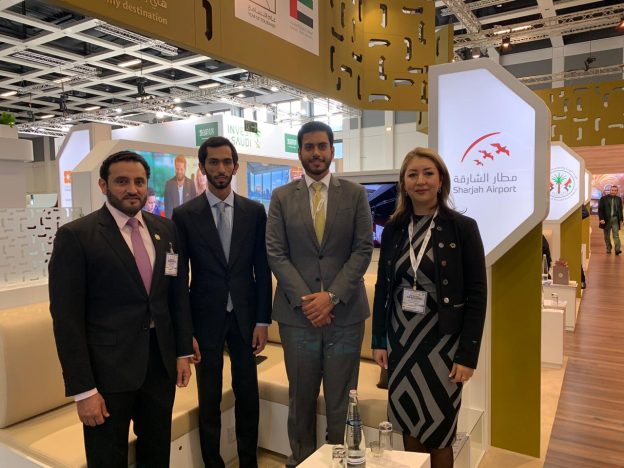 Sharjah Airport Authority (SAA) has concluded its participation at ITB Berlin 2019. Held in Berlin from March 6th-10th, the international travel trade show was attended by a large number of representatives from the world's tourism, travel, aviation and hospitality sectors.
SAA participated at ITB Berlin 2019 under the umbrella of Sharjah Commerce and Tourism Development Authority (SCTDA); the joint effort helped to promote Sharjah as the ideal destination for tourism, business and culture and to showcase Sharjah Airport's expansion plans and the services and facilities that it provides to passengers and partners.
H.E. Ali Salim Al Midfa, Chairman of Sharjah Airport Authority, said, "ITB Berlin was the ideal platform; we shared information about the Airport's latest services and benefits for passengers and airlines with officials from travel and tourism companies. It was also a great opportunity to meet, communicate and exchange views on the latest developments in aviation, tourism and travel with international officials, senior executives and decision-makers, and to strengthen existing partnerships and develop new ones."
By coordinating in terms of participation in the most important international tourism and travel exhibitions, SAA and SCTDA work together to promote Sharjah as a unique tourism destination.
ITB Berlin, the world's leading travel trade show, is held over the course of five days. The first three days are dedicated to events, agreements and meetings among the participating delegations and exhibitors and experts and decision-makers in all sectors related to the global tourism industry. The last two days are open to the public.